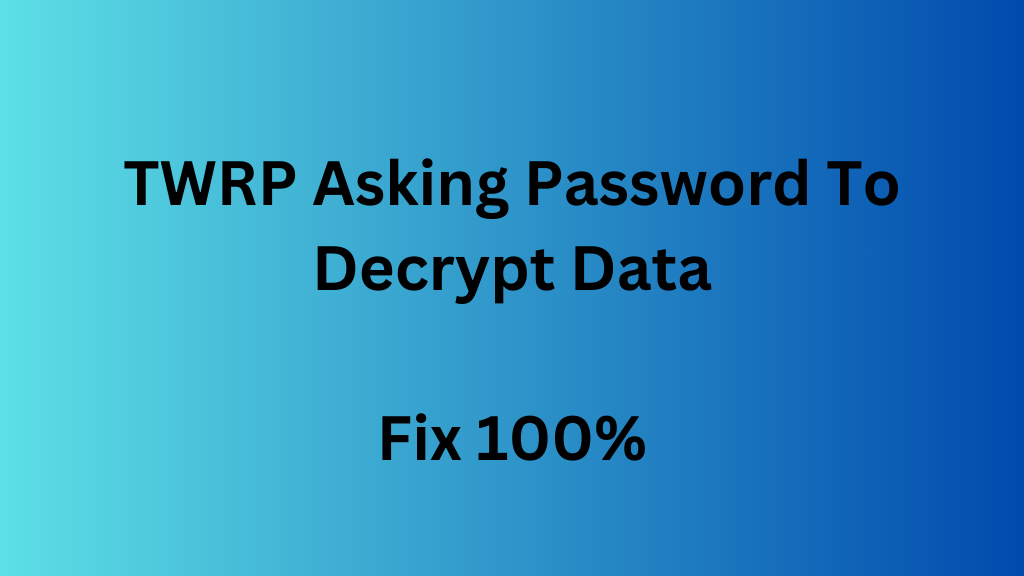 On Android devices, TWRP (sometimes referred to as Team Win Recovery Project) is a straightforward open-source program. Without having to periodically boot and reset the system, you may have total access to every nook and corner of your phone using this program.
While TWRP has a number of advantages, many Android users have had trouble with it asking for their password to decrypt data. The root reason of this issue is TWRP's inability to decrypt the data partition, not a fault with your device.
This article will walk you through three troubleshooting procedures to help you get your device back on track.
Method #1: Using a file manager and root access, repair the vendor partition/FSTAB
Install a root-accessible file manager by visiting the Play Store. The File Explorer Root Browser may be installed.
Launch this app after it has been downloaded. Keep in mind that this approach requires root access. The three dots may be seen in the upper right area of Xplore File Manager. This will take you to the configuration options, where you may grant root access and then enter superuser and mount writable. return to your file manager and choose FSTAB or Vendor from the menu.
You must modify FSTAB by holding down the option after entering it.
On the FSTAB, look for "encrypt" or "forceencrypt" and swap it out for "encryptable."
Save the file after making your changes, then choose Vendor/Navigate to/etc/FSTAB to return. (You can skip this step if you can't find it.)
To boot your smartphone into a stock recovery mode, next flash back your recovery settings.
After doing this, reset your phone to factory settings.
Go back to the TWRP after restarting your phone to the home screen.
Then, reboot your TWRP to finalise the adjustments.
Your smartphone won't request a password if you have meticulously followed all of these instructions!
Please take note that this method only functions with rooted phones!
Method #2: Using TWRP and a Text Editor to Fix the Vendor Partition/FSTAB
You can use this way to solve your problems if your smartphone is not rooted.
Boot your phone into TWRP mode first.
To access the mount vendor partition, go to the TWRP and type Mount.
Return to the TWRP home screen, choose Advanced Settings, and then select File Manager.
To copy the FSTAB to your USB-OTG or external sd storage, enter the etc/vendor option next.
Move on to the nvdata/vendor from here, and then transfer the FSTAB once again to a separate file under USB-OTG or external sd storage. (You can skip this step if you can't locate the FSTAB option here.
Edit the FSTAB file using the text editor.
Replace all instances of the phrase "forceencrypt" with the word "encryptable."
Once the modifications have been made, save them and copy them to the external SD or USB-OTG storage.
Reboot your TWRP after that, then copy the modified FSTAB files and replace them everywhere.
You can then format or modify the data partition after this is finished. To format the data, access Wipe in the TWRP settings.
Then, reboot using the modified TWRP settings to see if the encryption problem has been resolved.
Remember that in order for this method to function, the vendor partition must have been successfully mounted in TWRP to the Mount. Try the next approach if the TWRP problem is not resolved by this.
Method#3:Activating The No-Verity-Opt-Encrypt.Zip.
On your device, first download "no-verity-opt-encrypt.zip."
After downloading, transfer the zip file to the external SD or USB-OTG storage.
After that, reboot your device completely and switch to TWRP recovery mode.
Locate and choose the install option here. Enter storage from here and find the USB-OTG or ExtSD by navigating there (based on where you chose to store the zip file).
Navigate to the no-verity-opt-encrypt.zip file from here and choose the slider to flash option.
Whether you are successful in your efforts at this point, you may reboot your TWRP and check to see if the issue has been resolved.
To encrypt data if your TWRP is still requesting your password
Key Points to Keep in Mind
The majority of these techniques need a complete device reboot. Therefore, before moving on, be careful to backup all of your important data and papers.
Look for "fileencryption" or "forcefdeorfbe" and swap out "encryptable" if you can't locate a "forceencrypt" option in the FSTAB file.
If your data still get restored after changing the FSTABS, you'll need to stop the force encryption by using the Disable Dm-Verity ForceEncrypt 03.04.2020.zip.
You will need to flash back one more and enter the stock recovery.img if your device continues returning to the TWRP even after formatting and restarting. Next, perform a full factory reset. In this manner, you may make sure that your efforts are successful.
Remember that not all gadgets may be compatible with these techniques! What functions on one smartphone may not function on another. Try each of these approaches in this situation to find which is best for you.
Final Thoughts
There are several solutions to the TWRP problem that affects data decryption.
If none of these techniques work, try wiping your phone using the "Advanced Wipe" feature. Be careful to choose everything here besides "Internal Storage." By doing this, you will erase all of the files off your device and start again.
From this point, go back and attempt to restore the backup. The problem will be resolved as a result without any contradictions. Good fortune!