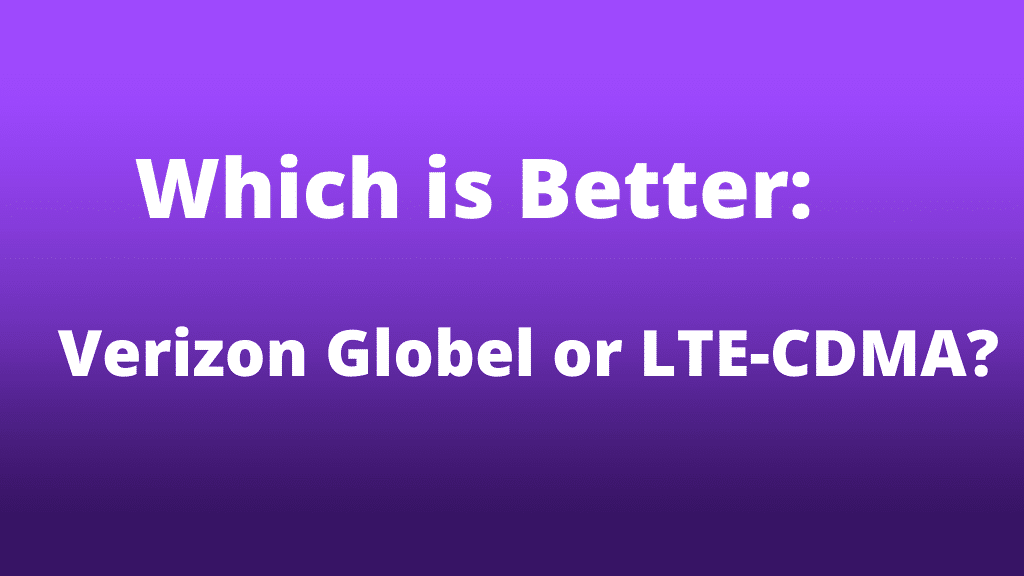 Are you confused by the different types of networks Verizon offers in the network settings and unsure which to choose? You may pick between Global mode, LTE/CDMA, and LTE/GSM/UMTS mode on your device for your Verizon SIM depending on several criteria, the most important of which is network coverage.
Let's have a look at what each of these network modes means and which one you should choose.
Global mode
The global mode appears to raise a lot of concerns in the network settings, among the alternatives supplied by your carrier, i.e., Verizon. What does "global mode" mean in Verizon's network settings?
When traveling abroad in the United States, the most favored setting is Verizon's global mode, which allows you to effortlessly connect to the GSM network. The global mode is normally turned on while going outside of the United States; however, you may keep it on even if you are within the nation and experiencing CDMA/LTE troubles.
If CDMA/LTE services are not available in the location you are presently in, this should be your recommended network setting. In this instance, the global mode will attempt to connect to the most latest technology, allowing you to bypass network barriers.
LTE/CDMA
Most of the time, even if you aren't aware of it, your smartphone is set to use the LTE/CDMA network. It guarantees the highest signal quality. Generally, in the United States, the LTE/CDMA configuration works best and is the preferred option for people who are experiencing network and signal troubles at a given place after switching to a different network mode.
This option keeps you connected to the internet through 4G.
LTE/GSM/UMTS
So, if you're not sure which network connection is ideal for you, change your network settings to LTE/GSM/UMTS. Why? If you're having difficulties with the following two network settings, it's probable that your neighborhood only has UMTS service. When you switch to LTE/GSM/UMTS in this instance, the device will run on UMTS and give you solid signal quality.
When you go to a location with higher GSM/LTE network compatibility, however, having this setting enabled will force you to connect to an LTE/GSM network.
If you're unfamiliar with UMTS, it's a worldwide system with 3G internet capabilities.
What is the best network mode to use?
First and foremost, the network mode you utilize is entirely based on your location and the possibilities accessible to you. If you live in an area that only supports CDMA, for example, you will need to adjust your phone's settings to make it compatible with CDMA from the start.
Overall, if you live in the United States, LTE/CDMA is the best network configuration. When traveling overseas outside of the United States, we recommend switching to Global mode (which is specifically designed for foreign travels).
If you are traveling within the United States and are experiencing poor network reception, you can switch to LTE/GSM/UMTS network mode.
When it comes to LTE/CDMA network coverage, Verizon often outperforms the competition while also helping to conserve battery life. If you have a Verizon phone, the worldwide network type will be automatically selected. Depending on your network coverage and where you're going, you can always adjust this in your phone's settings.
How can you convert your device's network type to a Verizon SIM?
The processes may differ slightly depending on whether you are using iOS or Android; nonetheless, below is a generalized instruction to assist you to change the network mode for your Verizon SIM on your phone:
Go to your phone's Settings app and scroll down to 'Network & Internet' or something similar.
• Select the Preferred Network Type option from the Mobile Network menu.
• Depending on your location, select worldwide, LTE/CDMA, or LTE/CDMA/GMS, and save the option.
Note: International carriers are automatically picked; however, if you want to change them manually, go to Settings or use the Connection Manager app. We've detailed the steps for changing the network type in Verizon Connection Manager below.
• Go to network settings in the Connection Manager app.
This will bring up a dropdown menu from which you will need to select the right network type.
• Once you've made your decision, save the modifications.
Before moving on to the following portion of this post, it's crucial to note that the LTE/CDMA network mode is incompatible with the Microsoft Surface 3, therefore you shouldn't use it.
When going outside of the United States, how do you alter your phone's network settings?
We've covered how to change network mode on both Android and iOS phones in the sections below:
Android Operating System
Before you leave the United States, be sure you follow these procedures.
• From your home screen, go to Settings.
• Go to More networks > Mobile networks > Network mode in the Settings menu.
• Select the proper mode from Global, LTE/CDMA, or GSM/UMTS while in Network mode. The global carrier is picked automatically, however changing the carrier network to an alternate carrier may take up to six registration tries to complete successfully.
• Return to Mobile Networks and choose Global Data Roaming Access from the drop-down menu.
• For all journeys, choose the Allow access option.
Allow the device to seek and read the network connection accessible in the specific region of the new zone you have gone to if you wish to locate the country's network when you first start using your phone in that country.
It might take up to 30 minutes for the data to be active in some countries.
If you want to travel outside of the United States, Verizon recommends that you power cycle your phone before leaving.
When you return to the United States, set Global Data Roaming Access to refuse and Network Mode to LTE/CDMA.
• Select Settings > Cellular > Roaming from the drop-down menu. If you haven't already, activate Voice Roaming.
• Select International CDMA from the Data Roaming drop-down menu to enable it.
• Simply ensure that voice roaming, data roaming, and international CDMA are all enabled.
What's the Deal With Verizon Refreshing SIM Data?
Are you seeing the notice 'Verizon Refreshing SIM Data' regularly?
If that's the case, we've outlined two simple solutions to the problem below. Let's take a closer look at both of them.
SIM cards must be replaced.
The majority of individuals are unaware that they are using a problematic sim. When your phone isn't operating properly, you'll have to deal with data refresh troubles regardless of the connection you're using. To remedy this problem, go to a Verizon store and get a replacement sim card for your cell phone.
After you replace the SIM, you'll notice a considerable improvement. If you're experiencing trouble with your phone's data updating, check to see if your SIM, regardless of provider, is in excellent working order.
Adjust the phone's settings
You likely activated the incorrect network setting on your phone, which is why you're getting this message.
This is probably the source of your SIM data refresh troubles. If the problem persists after replacing the SIM, go to the phone settings. Once you're in your device's Network Settings, select Network Mode. Once in network mode, check that your device's network settings are set to LTE/CDMA rather than GSM/UMTS (or vice versa if your location doesn't support LTE/CDMA). It's the most typical cause of your SIM data updating again and over.
Make careful to double-check the settings, and you should be able to solve the problem once you return to the proper network type.
How do I resolve Verizon Error 5?
You will get Verizon Error 5 if you have other network troubles, as it is tied to a network problem. Important calls and transactions may be halted as a result of this issue. To assist you, we have compiled a list of the most effective approaches for dealing with the problem.
The Region's Network Is Inaccessible
When you try to text someone and get an error five that says 'Other Network Problem,' the problem is typically not with you or the person you're trying to speak with, but with a network outage.
The only particular remedy is to wait for the network to return. If your issue was caused by a network outage, it will be addressed on its own once the network is restored in your area.
If it isn't the case, try the following methods:
Turn Off Your Phone
Shutting off your phone does not appear to be the solution to Error 5. It does, however, work a lot of the time, especially when the issue is caused by a transitory glitch. As evidenced by various online forums and Verizon customer service, shutting down the phone or putting it on Airplane Mode will sometimes assist customers to avoid Error 5.
Call the Verizon Customer Service Center.
If none of the aforementioned approaches work, you just have one choice: contact the customer service center. It's one of the simplest methods for resolving problems in a short amount of time. You may rest certain that Verizon's knowledgeable professionals will handle your issue as quickly as feasible.
Is it possible to use an AT&T phone with a Verizon SIM card?
If you're familiar with AT&T phones, you've probably seen the logo on the phone.
Even if the phone doesn't have an AT&T or Verizon branding, you can't use a sim card from another carrier in an AT&T or Verizon phone.
Let's take a look at the technologies they employ and the parameters that must be met to determine whether or not you may use a Verizon SIM on an AT&T phone.
The main distinction between the two businesses is that Verizon employs CDMA technology, which is in stark contrast to AT&T's GSM technology.
AT&T phones are GSM compliant, which means they cannot connect to CDMA networks.
Similarly, if you have a Verizon phone, you will not be able to use an AT&T SIM card since the phone is not GSM compatible.
The responsibilities
Another thing to consider is that when you buy an AT&T phone, you are legally bound by an AT&T contract that specifies that your phone is on lease and that you were allocated the phone for a one-time fee. The remaining balance is meant to be included in your AT&T monthly payment.
It is commonly known that you will not be allowed to use an AT&T phone unless you have a contract with AT&T, which means you will be unable to use another carrier's SIM on the phone for the duration of the contract.
If you're hoping to discover a workaround, realize that it won't work since the carrier is locked on such phones; for the duration of the contract, you'll be allowed to only use an AT&T SIM on an AT&T phone.
The choices are numerous.
However, if you want to switch from AT&T to Verizon without having to replace your phone, or if you are a Verizon customer who is receiving a bargain on an AT&T phone that is simply too good to pass up, you are not stuck, and several choices might help you along the path. So, now that you've learned about the distinctions and responsibilities, what are your options? If you're a Verizon customer who acquired an AT&T phone on the spur of the moment because of an appealing price, or if you wish to switch carriers without replacing your AT&T phone, you only have two options:
Purchasing an AT&T unlocked phone
Buying an unlocked AT&T phone rather than a carrier-locked phone from the same brand is your best option. This is future-proof since it ensures that you can use another carrier in the future if you don't want to stick with AT&T.
Of course, getting an unlocked AT&T phone will cost you a bit more, but if the ability to utilize any suitable carrier service on the unlocked phone is more important to you than the cost, then this option is worth considering.
Pay down your contract and AT&T will unlock your phone.
So, you've previously purchased an AT&T carrier-locked phone and now want to switch to Verizon's service. What are your options now? It's simple: pay off the remainder of your contract and have AT&T unlock your phone. Because you only paid a portion of the total upfront to have the phone assigned to you and agreed to pay the remainder as monthly service, pay the remaining balance in full and AT&T will remove the carrier lock on your AT&T phone.
Keep in mind that this may appear to be more expensive than the real worth of the phone because AT&T would not want to lose a monthly revenue-generating client. This is the choice for you if you genuinely want to keep the phone while switching carriers to Verizon. Many persons and websites will try to sell you a variety of things, claiming to be able to help you with (illegal)hardware and software that would allow you to utilize a Verizon SIM on an AT&T phone. If you sign up for this, you should be aware that breaching the AT&T contract might land you in serious legal trouble and result in severe penalties.