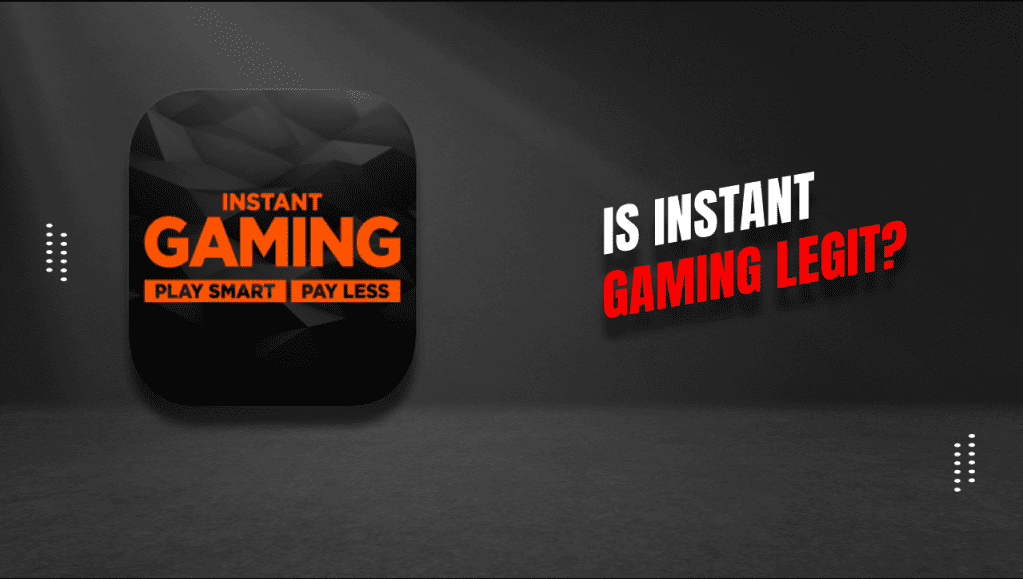 Every now and again, a serious gamer, or any gamer for that matter, is on the lookout for inexpensive digital games. Instant Gaming puts an end to the never-ending hunt for cheap games by providing game keys at very low costs. Instant Gaming is sometimes seen as a bargain basement, but as it grows dramatically, consumers and gamers alike begin to question if it is legitimate and trustworthy.
In this piece, we've examined Instant Gaming's credibility and meticulously evaluated the gaming site in order to provide you with an answer to the most often asked question: Is Instant Gaming legit?
Defining instant gaming
Instant Gaming is a website or online business that resells digital codes (also known as game keys). These game keys or codes can be used on games that have already been downloaded from Origin, Uplay, or Steam.
Instant Gaming is more than a resale site; it's a community that allows people to share their virtual achievements and trophies earned by purchasing game keys or CD keys, as well as browse one other's wishlists and buy games for each other.
Why is Instant Gaming called Instant Gaming?
Although the site makes no mention of why the store is called what it is, here is our explanation and the widely accepted answer: when you buy a CD key from the store, you get instant access to the key as well as all relevant information such as specifications, images, and so on, hence the name 'Instant Gaming.'
Is Instant Gaming legit?
Here's the answer before we get into the explanation: Yes, Instant Gaming is a legitimate and trustworthy company. Aside from the company's promises, the site's reputation is bolstered by the numerous good ratings on Trustpilot. It is more of an online store limiting third-party merchants, as opposed to G2A and Kinguin, and so has a superior 4.7 star rating from 523,315 people. The number of egregious or unfavourable reviews is kept to a minimum of 2%, allowing us to securely conclude that Instant Gaming is a reliable and legitimate source of CD keys.
Is Instant Gaming selling official CD keys?
This is a question that you will undoubtedly ask whenever you purchase a CD key from the internet. Yes, all CD keys offered on Instant Gaming are legitimate and approved merchants like Steam, Ubisoft, NCsoft, and Battle.net. This means you're paying for fully legal digital downloads of your favourite games.
Instant Gaming doesn't give anybody the permission to sell CD keys unless they're a legitimate reseller, therefore it's more of an online business than a marketplace.
After all, what is a CD Key?
CD keys are alpha-numerical digital codes for games that are printed inside the game's casing or on the game's reference card. If you have a digital copy of the game, the CD keys may also be accessible in text or scannable format.
Is Instant Gaming Customer Service good?
Customer service is essential in any excellent shop or website, and Instant Gaming certainly delivers in this area. If you have a problem with your purchase or have a complicated inquiry, the helpful customer service team is here 24 hours a day, 7 days a week to assist you.
Customer support professionally assists in resolving your problem, as stated in several Trustpilot reviews and on the official website itself – all you have to do is file a ticket and address your problems.
Is it safe to buy games and CD Keys from Instant Gaming?
Yes, Instant Gaming offers a safe and secure payment method using PayPal, Paysafecard, and Hipay. You can use a debit card, credit card, or Skrill to make a payment.
When purchasing using any of the payment channels, you will be required to go through a two-factor verification process to confirm that you are the one making the transaction on the website. Furthermore, some payment providers charge a little extra cost to ensure that your privacy is protected.
After you've placed your order, Instant Gaming will contact you at the number you provided to deliver a serial number, which, when entered into the form, allows you immediate access to the game's code. This coupon may be redeemed on Stream, an approved and legal network. This coupon may be used to download games from approved and legal platforms such as Stream or Ubisoft.
As a result, the in-depth identification of the person making the transaction aids in ensuring that the code is only accessed by the buyer.
Does anyone on Instant Gaming sell CDs or game keys?
No, unlike G2A, Kinguin, and other grey'marketplaces,' Instant Gaming does not allow anybody to sell a CD key. Only Instant Gaming has the ability to sell keys on the shop after purchasing them from approved dealers.
This makes Instant Gaming a doubly secure site for gamers to make a purchase, since each key is guaranteed to be genuine and functional.
Is it possible to get a refund on Instant Gaming?
Yes, you may get a refund on Instant Gaming. However, not every CD key is refundable, and depending on the key's nature, Instant Gaming will provide a refund. The following are the terms and conditions that apply:
• The request for a refund must be made within 10 days of the purchase date.
• The code must not be utilised in any way.
Instant Gaming: A Grey Market?
A grey market is a secondary market in which items (in various forms such as shares and merchandise) are traded without the approval of the corporation that formerly held or still owns the assets. These marketplaces are not illegal, but they do have a separate processing and operating structure. To address your question, Instant Gaming is a grey market, similar to other game resellers, that sells CD keys after purchasing them from the authorised vendor. Unlike other grey market retailers, however, it BUYS the keys from the official vendors rather than inflicting chargebacks on the creators or extracting the keys through other unlawful means. It is unquestionably preferable than piracy and other retailers that levy a chargeback on the creator or obtain keys from shady sources.
Is The Instant Gaming CD key working?
Because these are legitimate CD keys, all Instnt Gaming CD keys function. But what if your CD key isn't functioning for whatever reason? In such situation, you may submit a ticket to customer care, who will assist you in determining the source of the problem and, if the key is invalid, will provide you with a free replacement.
Instant Gaming is so cheap, but how is it possible?
Instant Gaming offers great deals on a constantly growing collection of games. These discounts may often reach 70%, which not only saves money but also reduces the time it takes for bargains to appear on legitimate stores.
Pre-order titles like Scarlet Nexus Deluxe, which has a 28 percent discount off the usual launch price, Elite Dangerous: Odyssey, which has a 33 percent discount, and HUMANKIND, which has an incredible 55 percent discount.
So, how come these games are so inexpensive on Instant Gaming?
What the site says:
Instant Gaming knows how tedious it is to wait in interminably lengthy lines and burn a hole in your pocketbook in order to play your favourite games.
This is why Instant Gaming and its committed staff of hardcore gaming fans have made it a top priority to assist gamers of all types in finding the greatest deals on games. Instant Gaming makes games available in digital format while purchasing them in quantity from authorised dealers, resulting in unbelievable cheap prices. This saves them money on distribution and intermediaries while also allowing them to save money on logistics for shipping and storing games in physical format.
Other claims made by users:
Many gamers claim that Instant Gaming and other sites similar to Instant Gaming are able to obtain game keys at lower prices than traditional retail because they are purchased at lower rates in other countries. Most merchants price games according on their region, and sites like Instant Gaming get these keys from places with the lowest prices, like as Asia, where income isn't as disposable as it is in more developed countries. Gamers claim that the site then makes these game keys available to everyone for the same fee, regardless of location. Instant Gaming, on the other hand, has made no statements in support of the players' claims, thus it can only be regarded a possibility.
Is it legal to buy CD/game keys from Instant Gaming?
Yes, purchasing CD keys through Instant Gaming is legal. Instant Gaming is not a pirate service, thus any key you buy isn't obtained through dubious ways. Instant Gaming also makes it a point to purchase keys or games directly from approved official vendors in order to resell them, which is a fully legal way to obtain and sell CD keys.
How fast will I receive my CD keys from Instant Gaming?
The name says it all: you'll get your key nearly immediately after making your order. The receipt is simple to read, and all you have to do is go through your previous transactions in the 'My Account' area to see the keys you've recently acquired.
The fascinating aspect is that these keys have no expiration date and may be used as many times as you like without having to re-activate them by purchasing another card.
Are there alternatives for Instant Gaming?
G2A
G2A acts as a middleman between marketplace vendors and buyers, allowing them to purchase and sell game keys from Steam, Origin, Ubisoft, and other sources, as well as various digital game accessories like skins and gifts.
G2A is a marketplace, unlike Instant Gaming. Consider it akin to Craigslist, except that the site does not sell games or CD keys. G2A is a Hong Kong-based corporation that mostly operates out of Poland, supplying inexpensive games through sellers who typically purchase games during specials or from other areas in order to benefit marginally by reselling them at a higher price afterwards.
Kinguin
Kinguin, like G2A, lets third-party merchants sell CD keys on their marketplace. It, too, is a marketplace, with over 4 million clients from all over the world since its establishment in 2013. Gift cards, CSGO skins, game keys, and a variety of other items, such as anti-virus applications and software, may all be sold on Kinguin.
Although Kinguin does not sell games on its own website, it does so through other websites such as G2PLAY.NET and a few others.
Green Man Gaming
Green Man Gaming was founded in 2009, over a decade ago, and offers a diverse mix of huge game collections. It distributes PC games and console games in more over 190 countries, offering significantly reduced new releases, pre-order games, and blockbusters.
The website's credibility and regular, adjustable offers make it an equally excellent, if not better, alternative than Instant Gaming. Green Man Gaming has cleaned up the prior controversy with the unlawful authorisation of keys, and now publishes source data for every game sold on the website.
MMOGA
MMOGA began as a location to acquire virtual currency in 2006, but has since grown to become one of the largest CD key resellers, having pioneered the market for over 14 years. MMOGA, or Massive Multiplayer Online Game Association, offers at least a 10% discount on basic retail costs, as well as a specialised support team and a wide range of titles and game currencies.
MMOGA received largely positive feedback from prior clients. Customers have appreciated it in the past for the excellent discount pricing it frequently gives. Even if you go to their website right now, you'll notice that the majority of the things on their homepage are at least 10% off their original price.
Gamivo
Gamivo, which is essentially a marketplace, is similar to G2A and Kinguin in that it allows third-party merchants to sell game keys. These game keys work on a variety of platforms, including Uplay, GOG, Steam, Battle.net, and others.
Gamivo, which was launched roughly three years ago, now has over 200,000 monthly visitors and secure payment methods, making it quite respectable.
Gamivo has a great reputation despite unhappy reviews and criticising sellers, although there have been complaints of several transactions going wrong. Customer service, on the other hand, is quick to answer, and if you upgrade to'smart customer,' which is an additional fee, the service becomes more better and faster.
Other Instant Gaming alternatives include:
Enable
GamersGate
Gamo
GameBillet
GamesPlanet
Voidu
Win Game Store
Gameflip
What makes Instant Gaming better than most alternatives?
Sure, there are many Instant Gaming alternatives that are just as excellent or perhaps better; but, Instant Gaming continues to outperform the competition. To begin with, Instant Gaming is an online store rather than a marketplace, which doubles the guarantee that each key is genuine, safe, and functional. Furthermore, it lacks consumer protection, removing the chance of being scammed because all keys would be functional and safeguarded against invalidity.
With ragingly positive ratings and a spotless reputation, Instnt Gaming is unquestionably a legitimate website, far superior to most of its competitors.
FAQs
How to buy games from Instant Gaming?
Step 1: You must register at the store since it is required. Next, look for a game for which you want a CD key. You may accomplish this by searching at the top of the page in the Search Bar or browsing the various sections at the top of the page, which are organised into columns such as Nintendo Consoles, PlayStation Consoles, and so on.
Step 2: To add a game to your cart, press on the 'Buy' button next to the game you wish to buy. Then, click to your basket to see what payment options are available.
Step 3: After you've selected your payment options, you'll get a summary of your order, including any applicable taxes and fees.
Step 4: Next, choose a payment method from the many alternatives available, such as PayPal, Paysafe, and others.
Step 5: After you've completed a purchase, you'll receive a key, which you can check under the 'My Account' area.
Are Instant Gaming keys globally valid?
Some CD keys are not valid in all locations owing to regulatory concerns with the official vendors from whom Instant Gaming purchased the CD keys. National restrictions on game import/export apply to publishers, which means that if a game is prohibited in your country, the CD key will be invalid.
As a result, before purchasing a CD key for a game, you should review the restrictions and other information accessible on the game's website.
What are the payment methods offered on Instant Gaming?
Instant Gaming accepts a variety of payment methods, including PayPal, debit card, PaySafeCard, Hipay, Sofort, Skrill, iDeal, and other simple options. Unless you use services like PayPal, there are usually no transaction fees on purchases.
How to apply discount and promo codes on Instant Gaming?
To use a discount or promo code, first add the item to your basket; then go to the order summary and look for a bar that says 'USE PROMO CODE' underneath it. After you've input the code, click Redeem to view the CD key's discounted price. After that, select a payment method for completing the purchase in order to acquire the key at a reduced price.
Reade More