Android Auto is an excellent application. You can manage some of an infotainment system's components via your Android smartphone. Several factors could be causing it if it does not work.
When your Android Auto app isn't operating, you can't reach the link between your car and smartphone, so you can't take advantage of favorable functions.
There are 8 ways to troubleshoot and reconnect everything so that you can get everything working again.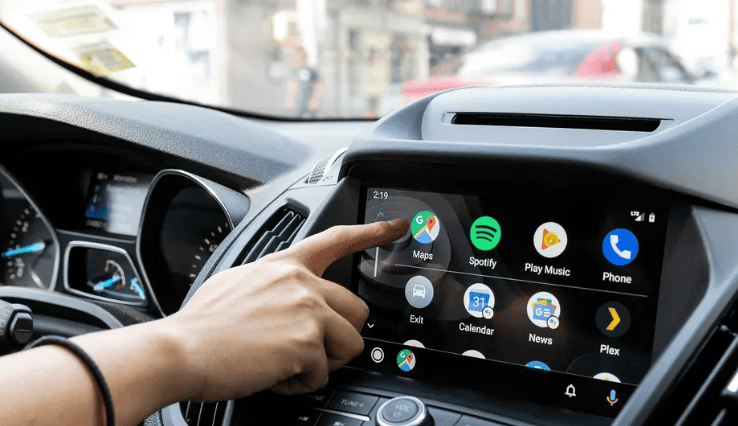 1.Restart your phone if you can't use an app
There is a chance of a problem with the software of your phone if your Android Auto app does not work, whenever Android Auto stops working, you must restart your phone.
The most common way to do this is to hold down the Power button until a menu appears on your smartphones and tablets. In any other case, press Shut Down and wait a few seconds before turning your phone back on. Then you can test if Android Auto now works properly by using it again.
2.Check if your smartphone is compatible with Android Auto
Some of The Phones have issues with the Android Auto. It is a common problem in Some smartphones. We can find the solution to this type of problem. Keep in mind that the Android Auto application is compatible with the latest smartphones. New smartphones are compatible with Android Auto.
If your android smartphone software is older than the Kitkat 4. x, it is strongly recommended that update it to Android Lollipop 5. x or above. The Second thing to remember the Android Auto Application is working on an active internet connection.
And Make Sure Your Country supports the Android Auto Application, With the new Google Update of Android Auto is Compatible with new cars and Adds more countries to the list of support android auto.
Google today announced Android Auto's expansion to six new countries through Twitter. Specifically, those countries include Belgium, Denmark, Netherlands, Norway, Portugal, and Sweden.
The full list of Google's biggest expansion of Android Auto to date follows.
Sweden, Denmark, Norway, Netherlands, Belgium, Poland, Portugal, Turkey Thailand, Indonesia, Albania, Angola, Armenia, Belarus, Bosnia, and Herzegovina Botswana, Bulgaria, Croatia, Cyprus, Czech Republic, Estonia, Finland, Greece, Hungary, Iceland, Latvia, Luxembourg, Lithuania, Macedonia, Malta, Moldova, Romania, Serbia, Slovakia, Slovenia, Ukraine.
3.Test your car for Android Auto compatibility
Most of the vehicles are not compatible with the Android Auto App. Most Automobile companies work with Google to make this famous Application. Due to budget constraints, carmakers are unable to provide high-tech infotainment systems in every car model.
The most common reason Android Auto stops working is your car is not compatible with the App.
Check your car on Google's list of Android Auto-enabled automobiles. The Function is only available with models manufactured from 2016 to 2017 or later. Check the user manual if android auto is available in your car. If the android auto app does not support your car you can get Android compatible stereo.
4.Make sure that the hardware is connected
If you have an android phone and car that is compatible with the android auto app, but then it does not work, there might be a hardware issue.
If the Android Auto application does not work, it may be because your USB cable has broken or that you are using a third-party USB cable. It is best to use the original cable that came with your phone.
You can connect your app to the wireless connection, but if your car's radio and Bluetooth are not updated, however, you may experience some problems with the wireless connection.
You need to use original hardware and the App to avoid connectivity issues.
5.Analyze the vehicle's infotainment system
If the android auto app not work at this stage then you should check your infotainment system of your Car. You should restart your infotainment system if you can, other than you switch off your car for few minutes and then switch on then try again.
Finally, if you are using an aftermarket receiver, check the manufacturer's website for available updates.
6.Fix Android Auto's crashing issue
There may be some problems with Android Auto itself. Several things can cause an application to crash. The First Thing to check the App is updated itself, Google rolls out regular updates for its Apps that no one negative experience regarding the Applications.
So, you update your mobile application to avoid the failure of the Android Auto App.
Our phone generated the temporary files when we are using the applications and other things, these files slow down the speed of mobile and face the problem of dysconnectivity of the application. You should delete these files by using this step.
To delete the temporary files created by the Android Auto app, go to Settings > Apps > Android Auto > Storage > Clear Cache.
7.Make sure your phone and Android Auto are up-to-date
Android Auto is not working because you need to install some updates. To install Android Auto updates, go to Settings > System > Advanced > System updates and install updates if necessary.
You can also check Google Play for updates to Android Auto. Go to your profile image in the upper-right corner of the screen, then tap Manage apps & device.
If Any updates is available press tab and update your android auto, During this time, you should also update Google Play and Google Search.
8. Replace the USB cable
You can connect your phone to android auto with either a wireless connection or a USB cable. If your phone is not connected wirelessly, you should use a USB cable to connect it to your car display.
If you are having trouble connecting, your USB cable is damaged or low-quality cable.
For that reason, you use a high-quality USB cable. Better to use the original cable that comes with your phone.
In case nothing else works
If nothing above fixes the problem Your car or phone may be a defect when using Android Auto.
Lastly, you can connect your phone to another car that supports Android Auto. Then you will know whether the problem is with Android Auto or your car.
In some cases, if the problem is with your car's internal components and the car does not allow Android Auto connection you can call the dealer of the vehicle to solve the issue.
Read More